Dental Implant Restorations
Dental implants give people with missing teeth an alternative to dentures or bridges. They are a popular option because they most closely resemble the appearance and feel of natural teeth. At Chad E. Clement, DDS, PC, we design dental implant restorations that can give you back the confidence and functionality of a full smile. We make sure our restorations look as natural as possible, so it'll be difficult for people to spot which is the fake tooth. You don't have to hide your smile because of gaps left by missing teeth. Let us help you reclaim your smile!
Make Appointment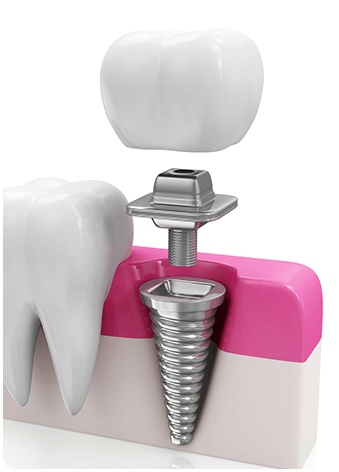 Dental Implant Procedure
It helps to think of the dental implant process in two parts: the placement and the restoration. During the initial placement procedure, a specialist or oral surgeon will surgically place a small titanium post in your jawbone where you are missing a tooth. We know that can sound a little intimidating, but it's actually what makes dental implants the first choice for many patients. Because the post is permanently placed, it will feel more like your other teeth and you won't have to worry about it falling out or slipping like with dentures. Instead, it functions just like a tooth root.
Once your jawbone has healed and the post is secure, Dr. Clement can complete the procedure with the dental implant restoration. The restoration is the part that resembles a tooth. Oftentimes, this is a dental crown. Dr. Clement will make sure that the fit, color, and shape all match your smile and are to your liking. Once the restoration is completely cemented in place, you can treat it just like you would your other teeth — that means you can brush and floss it like normal and chew and eat with ease again. We'll also have check-ins with you to make sure that the restoration is still looking and feeling great.
Request Consultation